Currently working on a new HD/SD video setup for C3 Lausanne.
The plan is to have everything (excepted the projector) in a flight case to allow easy transport and quick setup.
The schematic probably will be: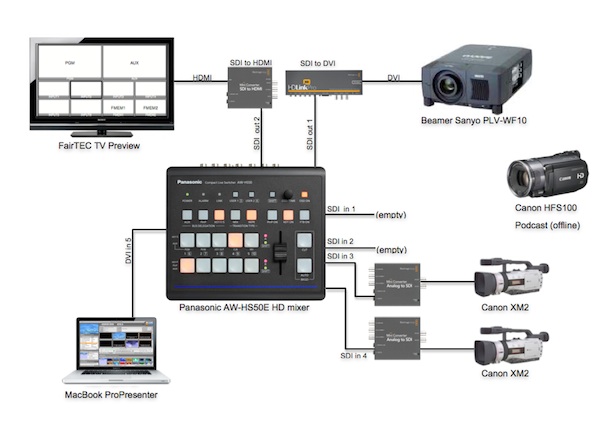 The process of understanding how we should do it has not been totally straight forward as I don't know too much about HD (yet). I will try to give some details on what we learned with a short review of the different pieces of equipment.
bigloose
update (10.05.2011):
Still struggling to make it work. I still have my image cropped on both sides on the projected images. No idea yet on how to solve it.
update (13.05.2011):
The HD Link Pro in between the mixer and the beamer doesn't work. Both equipment are trying to automatically set the resolution and the result is a cropped image on both sides.
You can follow the discussion about this topic on Creative Cow's forum
update (20.05.2011)
After more research, email and thinking the solution can be either:
Blackmagic could update the HD Link Pro's firmware/software to force a resolution (if technically feasible). That would be the easiest for me, but I doubt they will do it. But it doesn't cost to ask.
Purchase a Blackmagic SDI to Analogue converter and use the component input on the projector (1080i). This probably will be the final solution. But we have to either be able to send byck the HD Link Pro or sell it.
The new setup would be (still tbc):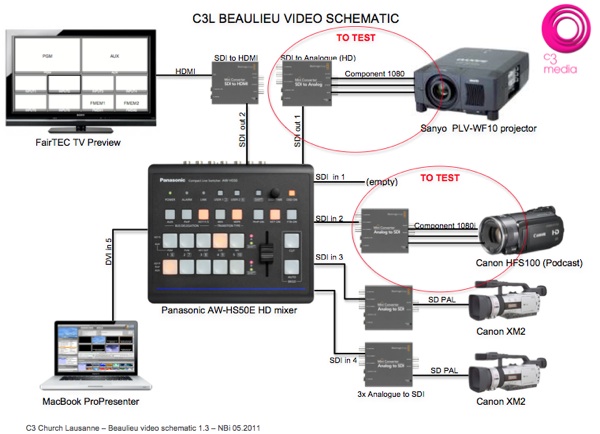 The other change will be to connect the podcast camera to the system through the Component connection. As it will be an HD signal (1080i) from the camera to the Blackmagic Analogue to SDI converter, we can use the SDI IN 1 or 2 on the mixer (input 1 & 2 unfortunately don't have an upconverter for SD signal).
More news soon...